Life with a preschooler, toddler and a newborn is quite an adventure. I have never learned more about who I am, who I desire to be, and who I'm supposed to be, since becoming a mom.
With one child, it was easy for me to still be selfish. I could go about my daily routine, with Elijah in tow. I lost some sleep, couldn't shower when I wanted to, had to be more creative with getting time with just Joel, and had someone else depending on me to nurture and care for them, but I was still in control over the majority of my time.
When Ella came along, I so badly tried to keep life the way it was without even realizing it. Overwhelmed by a messy house, an unhappy, fussy baby, and an extremely active 16 month old, I let life get overwhelming. Really, overwhelming.
It wasn't until Elliana was a bit older that I started to let go of the image and expectations I had placed on myself that I could let go and enjoy this stage of life more. It definitely did not happen over night.
During my pregnancy with Jude I started to really understand what it looks like to not "give up" on my idea of what a good life looks like, but to surrender to the Lord and allow him to shape my life and show me what His idea of a "good life" actually is.
I was reading in Matthew a few days ago, and a verse I have heard a thousand times jumped out at me. It's Matthew 7:13-14.
"Enter through the narrow gate. For wide is the gate and broad is the road that leads to destruction, and many enter through it. But small is the gate and narrow the road that leads to LIFE."
It really resonated with me. I have usually heard the verse quoted when talking about Heaven and Hell.
But this time the word "Life" stuck out to me more than anything else.
It's much easier and convenient for me to have my kids playing with their toys all day, watching movies and eating snacks while I go about cleaning and enjoying getting things done that I want to. It's so much harder for me to put off housework, projects and other things and just be in the present moment with my children. To get on the floor and play with them, do projects with them and to just enjoy them.
But the Lord has been whispering the phrase "let go" in my ear for weeks now. I need to let go and just be. Let go of expectations I have put on myself. Let go of the idea that I picked up somewhere that my house needs to be clean at all times (ha). Let go of this "image" that I had made up in my mind somewhere of how I wanted my life to be when I'm a mom.
In my heart I know that's right. I never really believed that I was supposed to live up to these expectations, but felt the pressure anyway. "Just let it go," the Lord kept saying.
When I came across this verse I felt like the Lord was again showing me that His desire for me to let go of a lot of weight I was dragging around, and to allow him to show me what a "good life," really is.
It's so much easier to be selfish, but when I make that choice at the beginning of my day to surrender it to the Lord, He has been bringing me SO much joy. I am learning to play and explore the world with my kids. I'm learning to not bat an eye at the messes they make, but instead watch and soak in their little minds exploring new things.
I feel like there is so much more life in our home. So much less arguing and saying "no." Elijah and Ella are happier and they actually play with toys, since I no longer expect them to do it.
When I surrender myself to listen to what the Lord is showing me in all areas of life and choose to walk in it, it brings life. Life to a home, life to a marriage, life to the world around me. Makes me wish I had listened sooner...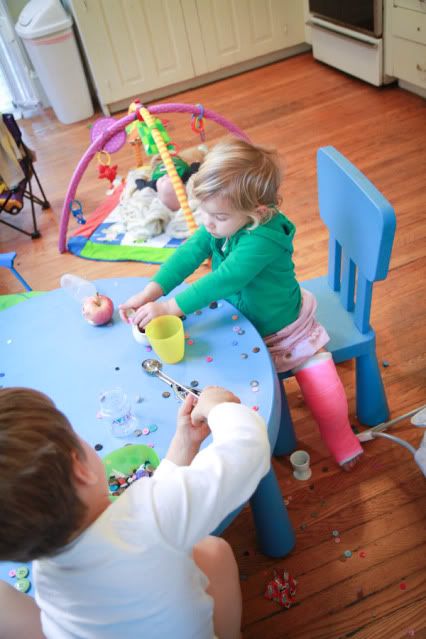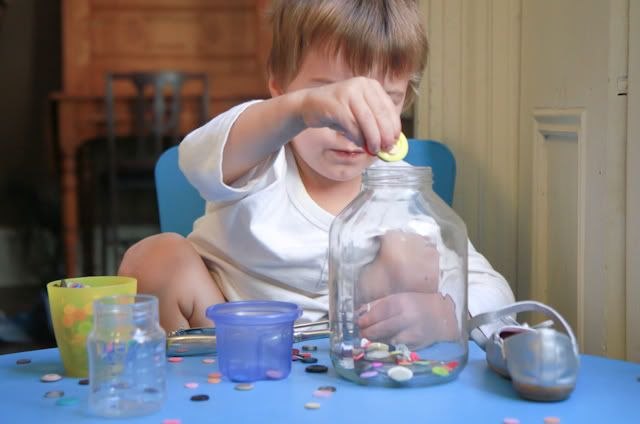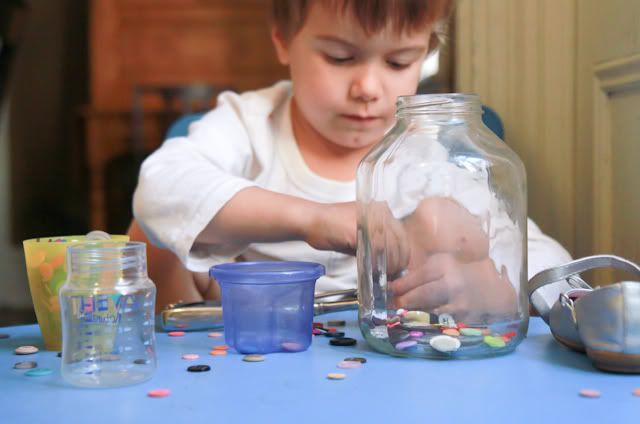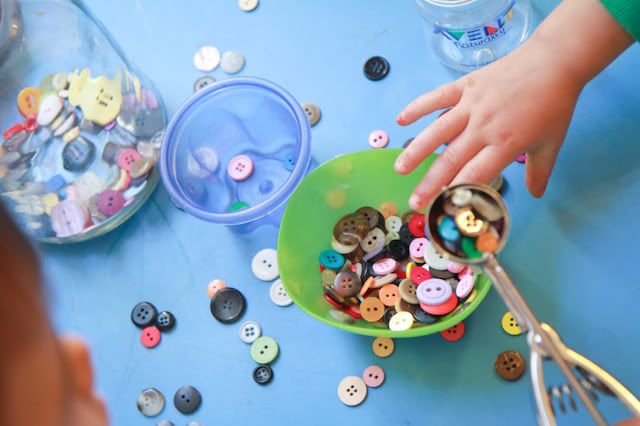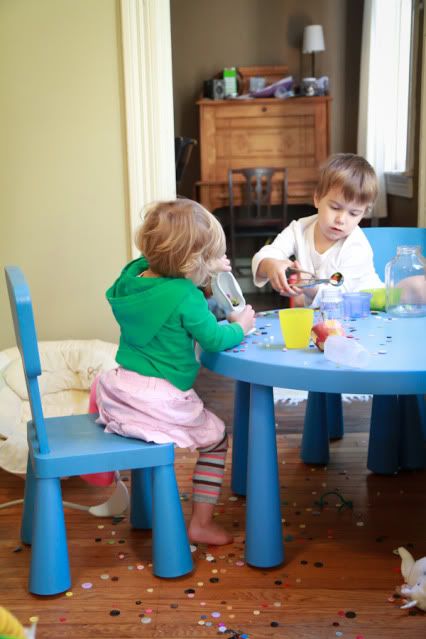 (look at all those buttons...real life there!)
...oh, and when I'm creative and give them something really fun to do, I can actually get the kitchen cleaned up too :)