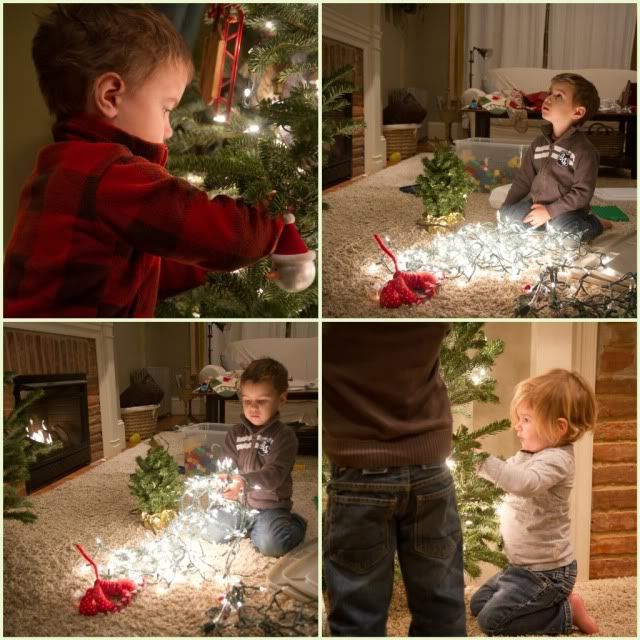 This was the first year that my kids were both able to help me decorate the Christmas tree. Actually, we didn't have a tree last year because of living room renovations, so this was Elijah's first time helping me too! They liked it so much, that we had to clarify that we only really need to decorate the tree once, after that they are not allowed to touch it unless an ornament has fallen off. I'm glad they share my love of decorating a Christmas tree!
We had a wonderful, unexpected, long weekend. Joel had off Thursday, but was called in to work at lunchtime Friday. A few other things were switched around, and he ended up having Saturday off as well! It was SO nice to have almost 4 full days with Joel. We've been putting in looong weeks these days.
We celebrated Thanksgiving with family in the afternoon and then had our friends and their kiddo's over to watch Elf. Love that movie. Friday we bought our Christmas tree! I'm not quite used to being able to pick out the perfect tree without being bundled up. The weather has been so mild! Later that night we went to the tree lighting downtown. It's always so fun to be crammed downtown in the cold (although, not so cold this year!), standing in the middle of the square with friends waiting for the tree to be lit. It's a fun way to kick off the holiday season! We came home, cranked the Christmas music, made hot chocolate and decorated the tree together. It's so wonderful to see Christmas in the eyes of our children.
Well, I better get some rest. I had a puking Ella girl today. I have cleaned/cloroxed everything, and am now off to rest and catch up on some sleep! Joel took the baby with him to small group tonight to give me a break-what a guy!