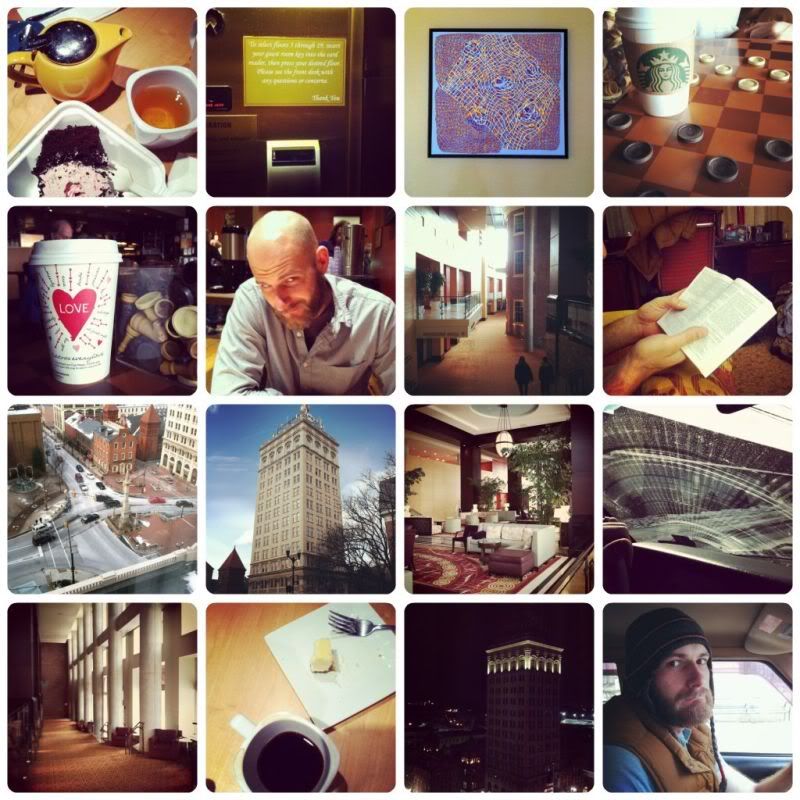 Joel and I celebrated our 5
th
year of marriage this weekend! We shipped the kids off to a friends house, Jude to grandma's and went off on an in-town adventure!
We stayed at the new(
ish
) convention center right downtown, a few blocks from our house. Ever since it was built we had talked about staying there sometime. The hotel has incredible views of the entire city. We requested a corner room on one of the higher stories of the building. It was so beautiful. We love our small city.
It was snowing all evening, just like the night of our wedding. It hasn't snowed much this year, and it's always special when snow falls on our anniversary. It wasn't quite as chilly as the 14 degree
wintery
night we got married, but cold nonetheless.
We went out for dinner at a local pub we hadn't tried yet. It was on the same block as our hotel, so we were able to walk in the snow. Very pretty. Very cold.
After a wonderful
Irish
dinner we decided to head down to a local cafe, a favorite spot of ours. But before we did, Joel insisted we stop at our hotel first to warm up. Apparently he had arranged for our friend Matty, who photographed our wedding five years ago, to come by the hotel and snap a few pictures of us!
I was totally caught off guard! We ventured out into the freezing snow and into a local shop where Matty captured a few pictures of the two of us. It was really fun. I'll have to post some pictures when we get them.
We walked down to the cafe and enjoyed coffee, tea and dessert. Yum. I love how relaxed I feel when I walk into a warm cafe on a snowy night. I think it's the smell off the coffee. It was wonderful to sit and relax, and have wonderful conversation with my husband.
We loved being in our own city, yet not in our own home. There wasn't the pressure to be out exploring a place we only had a few hours in. We could go to familiar places without figuring out hot to get there, yet we could enjoy it with new perspective. Plus, staying at a hotel kept me from feeling overwhelmed by housework.
We hope to go again this summer sometime. It was that enjoyable.
I feel so rested after a night away. A full night of sleep. No kids waking me up in the morning. I could sleep until I naturally woke up. It was so peaceful.
I cherish my time with Joel so much. He truly is my best friend, and I could sit with him for hours, just talking about life, our hopes and our dreams. We have lots of dreams. And we laugh. A lot.