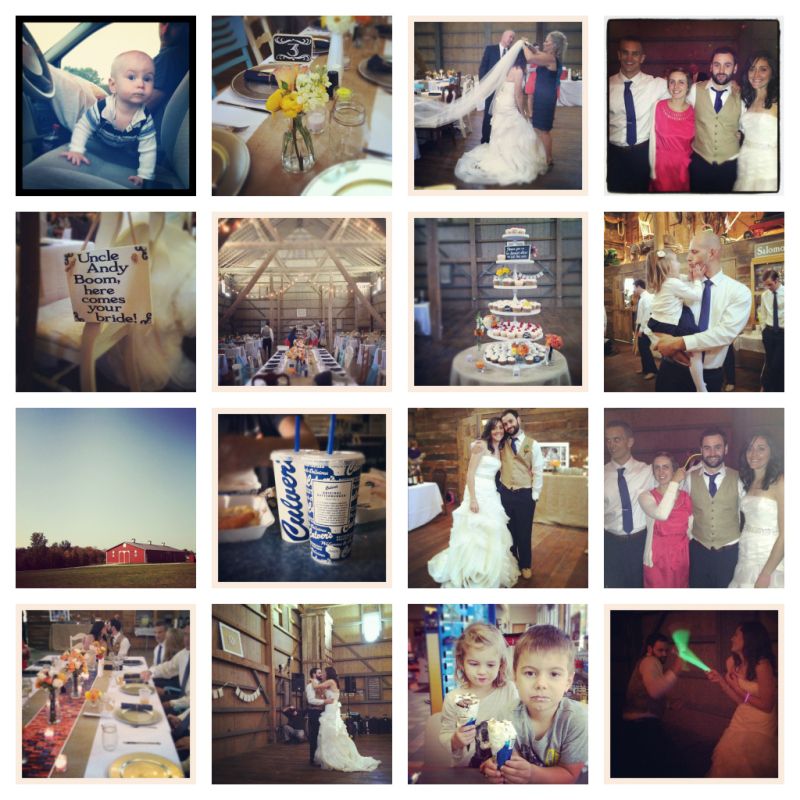 This past weekend we drove out to Indiana to celebrate the marriage of my brother and his beautiful fiance! We had been looking forward to this weekend for months. Family came in from all over, and we spend a long weekend hanging out and enjoying family and friends.
The kids spent the ten hour drive asking when we would get to the hotel and telling everyone at each rest stop that we were going to a hotel. Funny, they didn't even know what a hotel was. Ha.
And now they ask a few times each day when we can go back to the hotel.
Needless to say, the hotel was quite a hit.
"They have BEDS there."
Beds. Highlight of the hotel. And the pool. But, oh, the fun beds.
My kids were able to play with my cousins who taught them all sorts of magic tricks. Coins magically appeared out of nowhere. Spoons and forks disappeared under napkins.
I'm pretty sure Elijah thinks money is hidden all over the house and his body.
The wedding was at a beautiful old barn. We arrived on a beautiful warm, sunny day, but the wedding day brought 50 degree temperatures and lots of rain.
But the rain didn't stop all the excitement. Abby was absolutely radiant and Andy had a smile plastered on his face all day.
The wedding was beautiful. The reception was gorgeous. We had a wonderful night of catching up with family, dancing, laughing and enjoying the newly married couple.
I couldn't be happier for my brother and new sister in law. I know they are perfect for each other and I can't wait to get to know Abby even more.
A new sister.
Watch out my Andy and Brian, we're even now.
Spending time with family was good for all of us. We left feeling full and with closer relationships with everyone. It brings me so much joy to see my kids getting to spend time with everyone. They love their family.
I love that.
Congratulations Andy & Abby, we are so excited for you. Happy honeymooning!



Please excuse the phone pictures, I forgot to bring my camera to the wedding!